Back to overview
Looking back at 2019
Published on January 3, 2020
|
By

MailerQ
---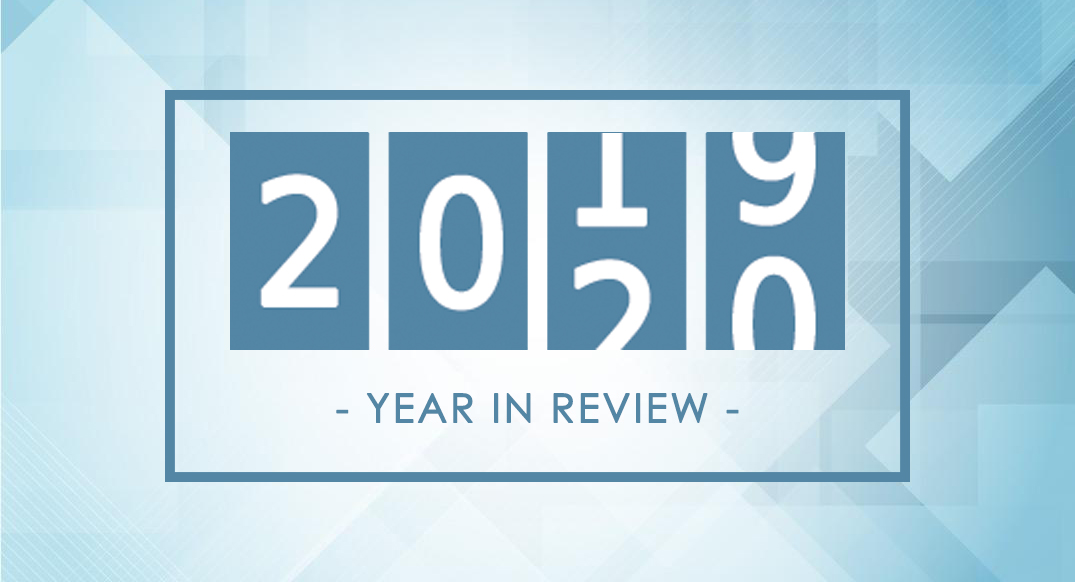 2020 has just started and it's a good time for us to reflect on what's happened in 2019. It has been a very busy year with a lot of exciting new developments. Let's take a look back at a few highlights!
Product updates
IP Pools
We started the year off by implementing one of the most highly requested features back then: support for organizing MTA IP addresses into IP Pools. Organizing IP addresses into IP Pools was already possible by means of Tags and Rewrite Rules. However, we saw and heard the need of making this more accessible. IP Pools can be created and changed on-the-fly without having to restart the MTA, and from version 5.8 onwards, new IP addresses made available to the server are automatically recognized by MailerQ without a reboot as well. The IP Pools can be used to set up Email Throttles, Rewrite Rules, delivery interceptions and more.
Rewrite Rule Conditions based on message properties
Rewrite Rules can be used to dynamically reroute messages. Prior to the introduction of the Rewrite Rule Conditions, it was already possible to modify deliveries based on IP, domain and/or tag. From version 5.5 onwards you can set Rewrite Rules based on even more conditions, namely if for the selected message certain properties (any message JSON property such as the from address, injection IP or subject line) do or do not equal/contain/match specific values or patterns.
REST API v1
During the summer, we introduced the first version of our REST API. Right now, the REST API can be used to inject messages and to pause and fail certain deliveries. While MailerQ already offered the possibility to intercept deliveries on any level of granularity such as per campaign, message type or client, the REST API enables authorized external applications - such as third party deliverability monitoring tools - to automatically pause a campaign that is hitting a high complaint rate at a certain ISP. Furthermore, the endpoint for forcing errors can be used to create a "Cancel"-button in your customer-facing front-end that cancels deliveries even after it's already sent to the MTA.
External MTA IPs
In our latest release, we introduced the support for external MTA IPs. Deployment in public cloud environments like Amazon Web Services and Google Cloud typically requires the MTA to work with IPs that do not exist locally but should be handled as if they do. We've implemented support for using external IPs behind Network Address Translation (NAT) so that MailerQ can be deployed in public cloud environments with support for a large number of MTA IPs.
Email/domain suppression list
Another useful feature that was introduced with the latest release is the Suppression List. As the name suggests, MailerQ will fail any message that matches any record on the Suppression List. These records can be either entire recipient addresses or just the recipient domain. This way, you can suppress delivery attempts to faulty domains with typical typos like "hotmai.com", "gmail.co" but also to email addresses you know do not exist (the ones for which you received a "mailbox does not exist" response).
Other new features include: numerous new widgets in the Management Console to increase insights into ongoing and delayed deliveries, organize recipient domains on MX record using a pattern (for Outlook and Verizon Media domains), HTTP and SOCKS5 proxy support for licensing and downloads, support for different DKIM header/body canonicalization types and for DKIM oversigning, log rotation based on logrotate and JSON Patch support in the Response Patterns actions. For all details, please refer to our release notes.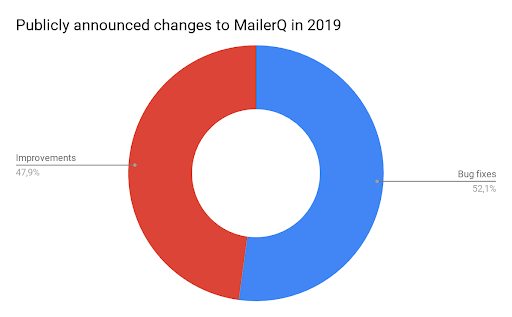 We want to thank all our partners, users and other friends in the industry for their invaluable feedback. This has really helped in prioritizing certain projects for our sprints, resulting in an even better-optimized solution for all kinds of senders. With 122 bug fixes and 112 improvements released this year, we're proud to see how much our solution has improved, and we can't wait to continue this path in the upcoming year.
Events
A delegation of engineering and sales colleagues visits the three M3AAWG meetings, as well as the CSA Summit, every year. 2019 was no exception. Being one of the best opportunities to catch up with everyone in the email industry, these events are extremely valuable for us in terms of product alignment, and of course also for marketing and socializing purposes. Besides visiting the M3AAWG meetings in San Francisco, Budapest and Montreal and visiting & sponsoring the CSA Summit in Cologne, we also organized the very first edition of a new initiative together with 250ok: the Global Sender Summit. With a great turnout and very positive feedback on the inaugural edition in Amsterdam, we've already started working on the next editions in the US and in Europe. Make sure to sign up for the Global Sender Summit email notifications to stay up-to-date about the latest news.
Looking forward to 2020
Besides looking back at what we've achieved in 2019, we're also looking forward to what's to come in the upcoming year. Our engineers have already started working on the next product release scheduled for early Q1. In addition, our commercial colleagues are now finalizing marketing strategies and sales plans. 2020 already promises to be a crazy busy and exciting year where we'll be expanding our team on all fronts! If you would like to get in touch about either product or commercial questions, or if you're looking to join the ride as we dive into our busiest year yet, please feel free to reach out to us on info@mailerq.com.