Back to overview
Global Sender Summit in review
Published on December 2, 2019
|
By

MailerQ
---
On the 7th of November, email industry professionals from around the world gathered in Amsterdam for the inaugural edition of the Global Sender Summit, a one day conference with the most serious and educated email senders to share their knowledge and experience with their industry colleagues.
The event took place at Level Eleven, a venue with a unique 360° view over the beautiful historical city centre of Amsterdam. Michael Linthorst, CEO of MailerQ and Greg Kraios, Founder of 250ok kicked off the day: "We are pleased to launch a global platform where professionals of the email industry can join to share their experiences, best practices, case studies and more. As much as we are looking forward to the launch of the event today, we are also already looking forward for the next editions of Global Sender Summit in 2020 and beyond."

The speaker line up was diverse and experienced, starting with Lacy Surber, Senior Manager High Touch Customer Success at Salesforce Marketing Cloud. Lacy's session on email personalization and segmentation set the tone for the day. Her presentation echoed through the rest of the conference. Lacy emphasized the importance of customer experience and backed it with Salesforce research data: "Great experiences reap great rewards, with almost two-thirds of customers willing to pay a premium for them. 84% of customers say the experience a company provides is as important as its products and services."
One might wonder how customer experience relates to email? Lacy suggests that by the increasing numbers of engaged email users and the potential ROI, which for email marketing means that 1$ will return 38$ (according to the Data and Marketing Association), you make email the linchpin in customer experience. She continued by outlining the steps to take in order to achieve this:
Map your Customer Lifecycle - in her team the steps of the lifecycle are Acquisition, Engagement, Checkout, Fulfillment, and Retention.
Harnessing the Power of AI - Artificial Intelligence (AI) makes it easier to spot trends and understand correlations. Rather than combing through multiple data sources, AI will help you monitor the health of the subscriber, offer suggestions, and free up a marketer's valuable time.
Think Personalized AND Actionable Content - with customers being 2.1x more likely to view personalized messaging as important, such methods can bring far greater returns.
Understandably, email professionals around the world are continuously debunking the "email is dead" myth. Lacy shows the importance of how the growing usage of email can help a business to have higher returns by proactively mapping your customers and providing more personalized and relevant content.
The day continued by shifting focus to knitty and gritty parts of email and deliverability. The highly experienced deliverability panel consisted of Tamara Bond, Delivery Operations Manager at dotdigital; Steve Henderson, Head of Deliverability at Emarsys; and Stephen Ford, Deliverability Practice Manager EMEA at Adobe, and moderated by Anthony Chiulli, Director of Product Marketing at 250ok. The panel shared their insights and expertise on various hot deliverability topics, taking turns to answer both Anthony's questions as well as taking ample time to reply to many questions fired up by the guests.
Similarly, the Q&A session between Anthony Chiulli and Antony Malone (Marketing Director at Booking.com) focused on digital and email marketing in a global travel and hospitality industry and also triggered intriguing questions from the audience on machine learning and personalization.

James Castro-Edwards, Partner at Wedlake Bell and Author of EU General Data Protection Regulation: A Guide to the New Law, discussed the basics of the GDPR and the ePrivacy Directive (which regulates unsolicited direct marketing) and how these impact email marketing. He also covered the enforcement activity since the GDPR took effect as well as the implications of Brexit.
We finished the day with an extensive presentation from Marcel Becker, Director of Product Management, Verizon Media. Marcel started off with a market overview, comparing it with a roller coaster as recent mergers and acquisitions are providing exciting times for the industry. He also showed some statistics comparing email performance to other social platforms, echoing some of Lacy's earlier comments. For example, email platforms are 40x more likely to acquire new consumers than Facebook and Twitter combined (according to a McKinsey research). 72% of consumers prefer email for brand-to-consumer communication (Adestra study) and email marketing being a king of ROI at 4200% (Litmus study) - a slightly higher estimate than Lacy mentioned. However, in reality, Marcel argues that the email industry is treated as print press - mass newspaper delivery to the people. Similarly in email, he argues, by delivering more and more, the big risk is reaching fatigue and an opposite of the desired effect.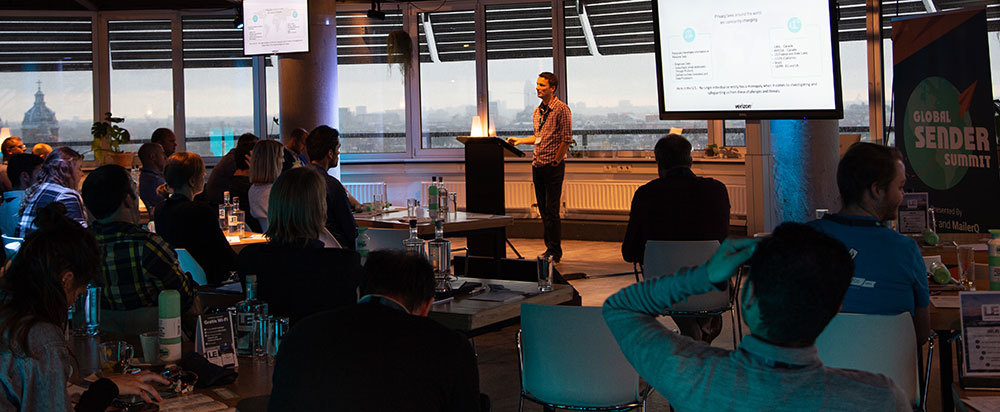 Nevertheless, Marcel goes on to describe and discuss the existing and upcoming tools that can significantly improve the industry. He talks about the importance of DMARC and BIMI in authentication and brand recognition: "75% of global mailboxes support DMARC" and "49% are citing brand recognition as #1 criteria before opening an email" (according to a DMA study), as well as using SCHEMA, AMP and DATA to deliver timely, relevant and engaging personal content to users. Marcel invigorated this by showing a comparison between engagement rates as measured by ESPs compared to what Verizon Media registers on their side, showing a vast discrepancy.
Marcel emphasized the need for trust and partnerships between both senders and receivers. That with building trust between these players and collaborating, there could be far greater advances in the email industry, as he estimates the potential ROI in email could be as much as 8000%.
With follow up questions the last session concluded and further discussions ensued during a lively reception. It was amazing to hear positive feedback from attendees as well as the speakers. We are sure to keep the positive energy and enthusiasm up for the next editions of Global Sender Summit. We hope to see you there!